Music at Regaleira 2023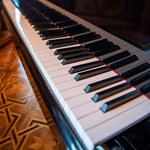 LOCAL: Quinta da Regaleira ACCESS: Entrance is free with your ticket for Quinta da Regaleira
MUSIC
DATE:

08/01/2023

•

17/12/2023
SCHEDULE: Sundays and on special dates at 4:00 pm
Music has returned to Quinta da Regaleira.
We are looking forward to seeing you!


[ FEBRUARY ]
5 FEB | Sunday 4:00 pm
VIOLIN RECITAL
By Teresa Julião of Lisbon Film Orchestra
F. Schubert - 9 Dances in D Major
H. Purcell – Prelude in G minor
J. S. Bach - Presto from Sonata No. 1 in G minor, BWV 1001
J. S. Bach - Sarabande from partita No. 2 in D minor, BWV 1004
Bieber – Passacaglia
G. P. Telemann – Fantasia No. 1 (Largo), for solo violin
--
12 FEB | Sunday 4:00 pm
HARP RECITAL
By Beatrix Schmidt of Lisbon Film Orchestra
Irish traditional songs
Clarke - Chaconne
Anonymous - Greensleeves
Bach - I. Prelude
Hasselmanns - Reverie
Pescetti - Sonata 2. tempo
K. Cater - Fox trail
F. Alberti - Souvenir
Annie Cahallan - Romance
--
19 FEB | Sunday 4:00 pm
PIANO RECITAL
By pianist Raul Pinto
Ernesto Nazareth - Waltzes, Tangos and Chorinhos
Nazareth leaves behind an essentially pianistic work, in Chopinian style. In the waltz it portrays a lyrical and excited poetry. In Brazilian tango, it configures syncopated rhythms, full of grace, accompanied by delightful melodies.
We share with you the words of musicologist Mozart de Araújo: "The characteristics of national music were so fixed by him and so identified with the Brazilian way of feeling music, that his work, although losing its immediate choreographic functionality , has been revalued, transforming itself today into the richest repository of formulas and rhythmic-melodic constancies, never due, at any time, to any composer of its category".
--
26 FEB | Sunday 4:00 pm
FLUTE AND GUITAR RECITAL
By Sintra Opera Studio
More information to be announced soon.


---

[ JANUARY ]
8 JAN | Sunday 4:00 pm
CONCERT OF KINGS
By the ARdeCORO Choir Group
A brief journey through the popular music of the 20th century. XX, from classical jazz standards to music from the 60s to the 2000s, in a choral version.
Gus Kahn, F. Andre & W. Schwandt - Dream a little dream of me
Harold Arlen / arr. G.V. Learman - Stormy weather
Irving Berlin / arr. Steve Zegree - Blue Skies
Moses Hogan - Hear my Prayer
Trad. / arr. Stephen Paulus - The Road Home
G. Weiss/H. Peretti/L.Creatore - Can't help falling in love
David Bowie - Space oddity
Lennon & McCartney - Because
Neil Young - After the goldrush
U2 - With or without you
Gary Bonner & Alan Gordon / arr. Audrey Snyder - Happy together
Pedro Ayres Magalhães - Oxalá
A production by Fundação Cultursintra FP and DPA – Department of Culture and Heritage of Sintra City Council.

--
15 JAN | Sunday 4:00 pm [ POSTPONED TO 5 FEB ]
VIOLIN RECITAL
By Teresa Julião of Lisbon Film Orchestra
F. Schubert - 9 Dances in D Major
H. Purcell – Prelude in G minor
J. S. Bach - Presto from Sonata No. 1 in G minor, BWV 1001
J. S. Bach - Sarabande from partita No. 2 in D minor, BWV 1004
Bieber – Passacaglia
G. P. Telemann – Fantasia No. 1 (Largo), for solo violin
--
22 JAN | Sunday 4:00 pm
PIANO SOLO
By pianist Anna Luisa Pires
18th century works
J. S. Bach - Inventions with Two Voices, No. 8
J. S. Bach - Inventions with Two Voices, No. 13
J. S. Bach - Inventions with Three Voices, No. 11
W. A. Mozart - Sonata KV 570
L. V. Beethoven - Sonata Anh 5, No. 1
L. V. Beethoven - Sonata Op. 27, No. 2 (Adagio)
L. V. Beethoven - Bagatelles Op. 126, No. 1
L. V. Beethoven - Bagatelles Op. 126, No. 2
--
29 JAN | Sunday 4:00 pm
VIOLA RECITAL
By Eurico Cardoso of Sintra Opera Studio
GEORG PHILIPP TELEMANN (1681-1767)
Fantasy No. 1 TWV40-14 (transcription for Viola)
· Largo
JOHANN SEBASTIAN BACH (1685-1750)
Suite No. 1 in G major (transcription for Viola)
· Preludio
· Allemande
· Courante
· Sarabande
· Minueto I e II
· Gigue
JOHANN SEBASTIAN BACH
Sonata No. 2 for solo violin BWV 1003 (transcription for Viola)
· Andante
JOHANN SEBASTIAN BACH
Suite No. 3 in C major (transcription for Viola)
· Preludio
· Allemande
· Sarabande
· Courante
· Bourrées I e II
· Gigue


--
Photo: Maria Gavinho