Music at Regaleira 2023 | JAN · MAR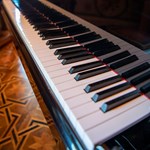 LOCAL: Quinta da Regaleira ACCESS: Entrance is free with your ticket for Quinta da Regaleira
MUSIC
DATE:

08/01/2023

•

17/12/2023
SCHEDULE: Sundays and on special dates at 4:00 pm
Music has returned to Quinta da Regaleira.
We are looking forward to seeing you!


[ MARCH ]

5 MAR | Sunday 4:00 pm
RECITAL "JOURNEY THROUGH THE BAROQUE"
By the School of Music of the National Conservatory
Soloists:
Catarina Azevedo
Laura Cabral
Caetana Caseirão
Maria Leonel
Lourenço Fialho
Inês Paulino
Madalena Eickhoff and Julio Marques
Accompanied by harpsichordist Flávia Almeida Castro
Cello, Transverse Flute and Recorder, Singing and Violin
Works by Marcello, Detri, Telemann, Handel and Johann Sebastian Bach.
--
12 MAR | Sunday 4:00 pm
CELLO RECITAL
By Nika Vremsak of Lisbon Film Orchestra
J. S. Bach – Suite No. 1 for Solo Cello in G Major, BWV 1007
J. S. Bach – Suite No. 2 for Solo Cello in D minor, BWV 1008
"True generosity consists in giving yourself completely and yet feeling that it has cost you nothing" – Simone de Beauvoir
Happy woman's Day!
--
19 MAR | Sunday 4:00 pm
FATHER´S DAY RECITAL
By pianist Raul Pinto
LIEDER OHNE WORTE / SONGS WITHOUT WORDS / SONGS WITHOUT WORDS
The "songs without words" are short pieces, where we subtract the words from the songs and the affections remain. The absence of something named intensifies the imagination, as if reading a poem blindfolded.
"People often complain that music is too ambiguous, that what they should think when they hear it is unclear, while everyone understands the words. But for me it's the opposite. And not only in relation to an entire speech, but also in individual words. They also seem to me so ambiguous, vague, so misleading compared to real music, that fills the soul with a thousand better things than words. The thoughts that are expressed to me by the music I love are not too vague for me to put into words, but, on the contrary, they are well defined." - MENDELSSOHN, 1865.
--
26 MAR | Sunday 4:00 pm
SINTRA MOUNTAIN
CD recording presentation
By Sintra Estúdio de Ópera
Sintra String Quartet:
Nélson Nogueira, violin
Félix Duarte, violin,
Eurico Cardoso, viola
Abel Gomes, cello
Guests:
Joao Alves, double bass
Paulo Pacheco, piano
Sintra Montain has been, for centuries, a source of inspiration for the most diverse artistic and literary creations. In music, especially in the 19th century, several composers were inspired by the landscapes of this mystical mountain, including Carlos Adolpho Sauvinet. Sauvinet describes, in the ode Sintra Mountain, a journey that begins in the Sintra Palace, the ascent to the Moorish Castle and, finally, the arrival at the Pena Palace.
Another great portuguese composer who spent long seasons in Sintra was Alfredo Keil, best known today for being the author of A Portuguesa, Portugal's National Anthem. Keil was one of the promoters of the musical nationalism, as seen in works such as the opera A Serrana and in a wide set of other smaller pieces. Among these, the Suite d'Airs Portugais presents us with an inspired set of portuguese traditional music themes. On the other hand, the brief polka Le Petit Oiseau takes us to the salon music of northern Europe.
ALFREDO KEIL (1850-1907)
Suite of portuguese folk songs
I. Ronde Populaire
II. Air de Fado
III. Fandango
CARLOS ADOLPHO SAUVINET (1836-1905)
Sintra Mountain, symphonic ode (1895)
- sextet version, 1904
I. The wans room
II. What the floor tiles say
III. The climbing of the mountain
IV. The moors's gate
V. The drawbridge
VI. Glory to the portuguese shields
ALFREDO KEIL (1850-1907)
Le Petit Oiseau, polka
Sponsored by: República Portuguesa - Cultura / Direção Geral das Artes
More information to be announced soon.


---
[ FEBRUARY ]
5 FEB | Sunday 4:00 pm
VIOLIN RECITAL
By Teresa Julião of Lisbon Film Orchestra
F. Schubert - 9 Dances in D Major
H. Purcell – Prelude in G minor
J. S. Bach - Presto from Sonata No. 1 in G minor, BWV 1001
J. S. Bach - Sarabande from partita No. 2 in D minor, BWV 1004
Bieber – Passacaglia
G. P. Telemann – Fantasia No. 1 (Largo), for solo violin
--
12 FEB | Sunday 4:00 pm
HARP RECITAL
By Beatrix Schmidt of Lisbon Film Orchestra
Irish traditional songs
Clarke - Chaconne
Anonymous - Greensleeves
Bach - I. Prelude
Hasselmanns - Reverie
Pescetti - Sonata 2. tempo
K. Cater - Fox trail
F. Alberti - Souvenir
Annie Cahallan - Romance
--
19 FEB | Sunday 4:00 pm
PIANO RECITAL
By pianist Raul Pinto
Ernesto Nazareth - Waltzes, Tangos and Chorinhos
Nazareth leaves behind an essentially pianistic work, in Chopinian style. In the waltz it portrays a lyrical and excited poetry. In Brazilian tango, it configures syncopated rhythms, full of grace, accompanied by delightful melodies.
We share with you the words of musicologist Mozart de Araújo: "The characteristics of national music were so fixed by him and so identified with the Brazilian way of feeling music, that his work, although losing its immediate choreographic functionality , has been revalued, transforming itself today into the richest repository of formulas and rhythmic-melodic constancies, never due, at any time, to any composer of its category".
--
26 FEB | Sunday 4:00 pm
FLUTE AND GUITAR RECITAL
By Sintra Estúdio de Ópera
Natálie Grossmannová, flute
Miguel Almeida, guitar
MAURO GIULIANI (1780-1840)
Grande Duo Concertante, op. 85
I. Allegro maestoso
II. Andante molto sostenuto
III. Scherzo
IV. espressive allegretto
GABRIEL FAURÉ (1845-1924)
berceuse
MAURO GIULIANI
Grand Serenade, Op. 82
I. Theme
II. 1st variation
III. 2nd variation
IV. 3rd variation
V. Minuetto-Trio
SAW. Allegro
VII. Marcia-Trio
MAURICE RAVEL (1875-1937)
Pavane pour une infante defunct
SCOTT JOPLIN (1868-1917)
Original Rags
Note on the instruments: The guitar was an instrument that gained popularity in the 19th century, especially in Mediterranean countries. The use of this instrument in private environments, either solo or as an accompaniment to voices or melodic instruments such as the violin or the flute, became widespread in Europe. One of the most important composers for this instrument was Mauro Giuliani, who wrote several concertos and flute duos, the latter being one of the most popular instruments across the European continent.


---

[ JANUARY ]
8 JAN | Sunday 4:00 pm
CONCERT OF KINGS
By the ARdeCORO Choir Group
A brief journey through the popular music of the 20th century. XX, from classical jazz standards to music from the 60s to the 2000s, in a choral version.
Gus Kahn, F. Andre & W. Schwandt - Dream a little dream of me
Harold Arlen / arr. G.V. Learman - Stormy weather
Irving Berlin / arr. Steve Zegree - Blue Skies
Moses Hogan - Hear my Prayer
Trad. / arr. Stephen Paulus - The Road Home
G. Weiss/H. Peretti/L.Creatore - Can't help falling in love
David Bowie - Space oddity
Lennon & McCartney - Because
Neil Young - After the goldrush
U2 - With or without you
Gary Bonner & Alan Gordon / arr. Audrey Snyder - Happy together
Pedro Ayres Magalhães - Oxalá
A production by Fundação Cultursintra FP and DPA – Department of Culture and Heritage of Sintra City Council.

--
15 JAN | Sunday 4:00 pm [ POSTPONED TO 5 FEB ]
VIOLIN RECITAL
By Teresa Julião of Lisbon Film Orchestra
F. Schubert - 9 Dances in D Major
H. Purcell – Prelude in G minor
J. S. Bach - Presto from Sonata No. 1 in G minor, BWV 1001
J. S. Bach - Sarabande from partita No. 2 in D minor, BWV 1004
Bieber – Passacaglia
G. P. Telemann – Fantasia No. 1 (Largo), for solo violin
--
22 JAN | Sunday 4:00 pm
PIANO SOLO
By pianist Anna Luisa Pires
18th century works
J. S. Bach - Inventions with Two Voices, No. 8
J. S. Bach - Inventions with Two Voices, No. 13
J. S. Bach - Inventions with Three Voices, No. 11
W. A. Mozart - Sonata KV 570
L. V. Beethoven - Sonata Anh 5, No. 1
L. V. Beethoven - Sonata Op. 27, No. 2 (Adagio)
L. V. Beethoven - Bagatelles Op. 126, No. 1
L. V. Beethoven - Bagatelles Op. 126, No. 2
--
29 JAN | Sunday 4:00 pm
VIOLA RECITAL
By Eurico Cardoso of Sintra Estúdio de Ópera
GEORG PHILIPP TELEMANN (1681-1767)
Fantasy No. 1 TWV40-14 (transcription for Viola)
· Largo
JOHANN SEBASTIAN BACH (1685-1750)
Suite No. 1 in G major (transcription for Viola)
· Preludio
· Allemande
· Courante
· Sarabande
· Minueto I e II
· Gigue
JOHANN SEBASTIAN BACH
Sonata No. 2 for solo violin BWV 1003 (transcription for Viola)
· Andante
JOHANN SEBASTIAN BACH
Suite No. 3 in C major (transcription for Viola)
· Preludio
· Allemande
· Sarabande
· Courante
· Bourrées I e II
· Gigue


--
Photo: Maria Gavinho