Música na Regaleira · Live Online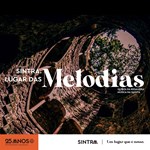 LOCAL: Quinta da Regaleira ACCESS: —
MUSIC
DATE:

07/06/2020

•

27/12/2020
SCHEDULE: Sundays 4:00 pm
Next Sunday, 7th June, at 4:00 pm, Music returns to Quinta da Regaleira with the weekly concerts to be broadcast live on the Facebook pages of Quinta da Regaleira (facebook.com/quintadaregaleira) and Fundação Cultursintra FP (facebook .com/cultursintra) and also on the YouTube channel of Quinta da Regaleira (youtube.com/quintadaregaleira). We count on you on that side!
7 JUN
PIANO RECITAL
By pianist Raul Pinto
SCHUMANN - Children's Scenes
14 JUN
SINTRA ESTÚDIO DE ÓPERA
SoDuet! (João Santos and Fiúza Duarte)
"Classical Improvisations"
21 JUN
PIANO RECITAL
By pianist Raul Pinto
SCHUBERT - Improvisations (second notebook)
28 JUN
SINTRA ESTÚDIO DE ÓPERA
Soloists of the Sintra Chamber Orchestra
"Trios de Classicismo"
Program JUL - DEC to be announced soon